AEROPLANE Magazine March 2005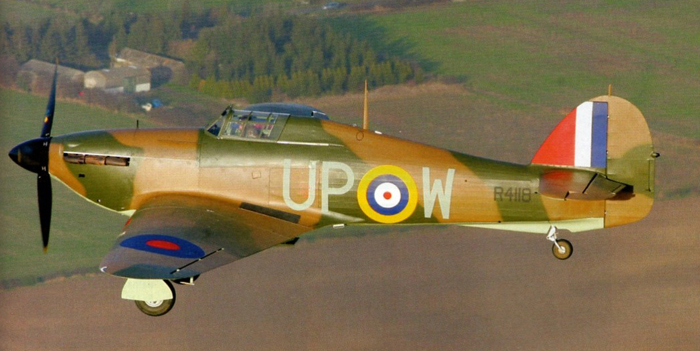 IN MARCH 1982 Peter Vacher, a noted restorer of vintage Rolls-Royce cars who was cataloguing Rolls-Royces which had belonged to various Maharajas, stumbled upon a derelict fighter in a compound in northern India.  The fuselage was standing on its wheels and the propeller, wings and tailplane were laid on the ground.  Intrigued, Peter noted the serial number, R4118, and back in England he discovered that it was a Battle of Britain Hawker Hurricane.  The idea of recovering the historic fighter remained with Peter, and in 1996 he made an offer for it.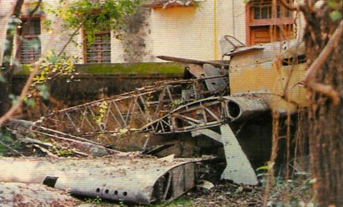 The Hurricane had reached India by ship in early 1944.  Intended for use as a training aircraft, it was not needed and remained in its packing case at Bombay until 1947.  Struck off charge, R4118 was donated to a university at Varanasi (Benares) for engineering instruction.  Over the following decades thousands of students worked with R4118, but none could have known of their training aid's illustrious past.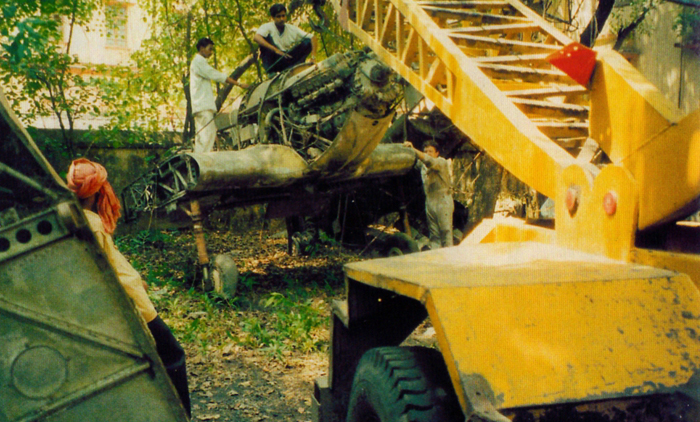 Delivered new to No 605 (County of Warwick) Sqn at Drem, Scotland, on August 17, 1940, R4118 was flown south by Plt Off C.F. "Bunny" Currant with the rest of 605 Sqn to Croydon, Surrey on September 7 that year.
At Cambridge Airport on January 13, 2005, former 605 Sqn pilot Bob Foster took up the story: "Croydon had been pretty badly bombed; it was all a bit chaotic.  We didn't fly for two or three days."  Bob, who had just vacated the cockpit of the recently-restored R4118 eagerly scanned his wartime logbook for references to the machine: "September 28, 1940. I flew R4118 four times that day".  On the second combat patrol, while he was flying as Red 2 to Plt Off Eric Wright at 10,000ft south of Tunbridge Wells, Kent, a lone Junkers Ju 88 was spotted flying east at about 15,000ft.  Climbing and turning on to a parallel course, Eric and Bob pressed home their attach, and the damaged Ju 88 was last seen diving into cloud south of Beachy Head.  It was claimed as a probable kill.  Four days later, on October 1, Bob, again in R4118, found another hapless Ju 88 flying south over Surrey.  This time there was no doubt about the bomber's fate, as it plunged vertically, a confirmed shared kill.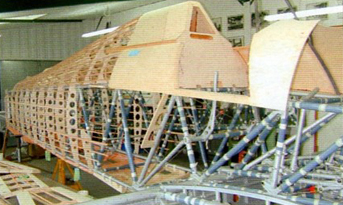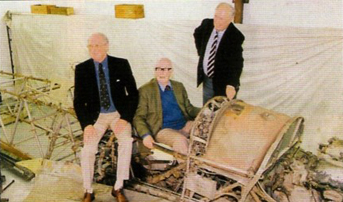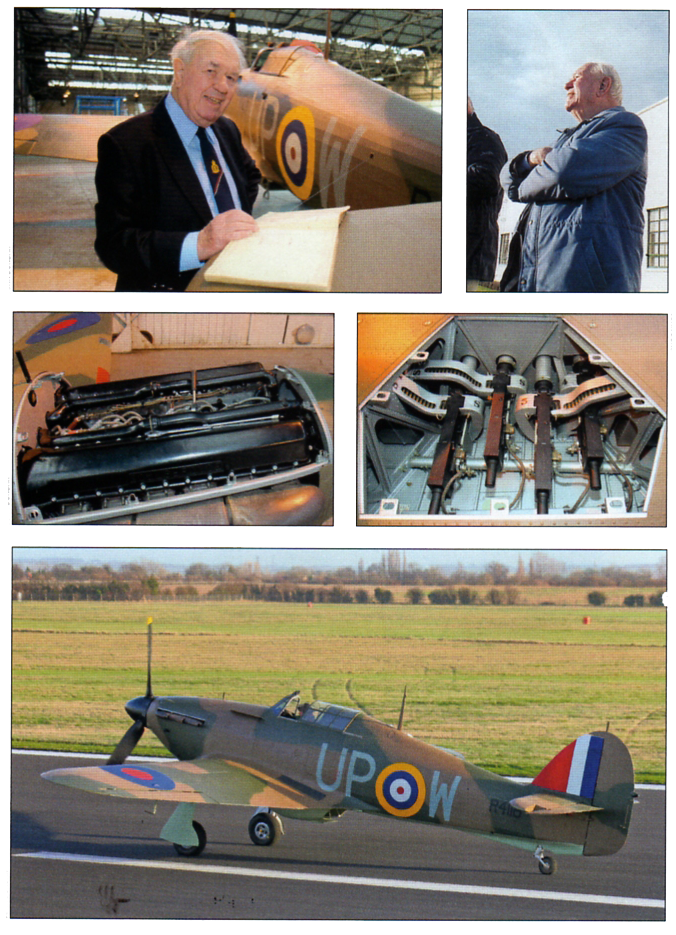 Pictures Above : Bob Foster checks his logbook on the tailplane of R4118.  On September 27, 1940, Bob damaged a Messerschmitt Bf 110 while flying another Hurricane, but took some hits and had to force-land at Gatwick.  During the same action, Plt Off John Milne shot down another Bf 110 in R4118.  The following day Bob damaged a Ju 88 in his replacement Hurricane, R4118 : Bob watches his old Hurricane take off at Cambridge Airport on January 13 : The 1,030 h.p. Merlin III engine : R4118's original Browning machine-guns : Stuart Goldspink taxies R4118 back in.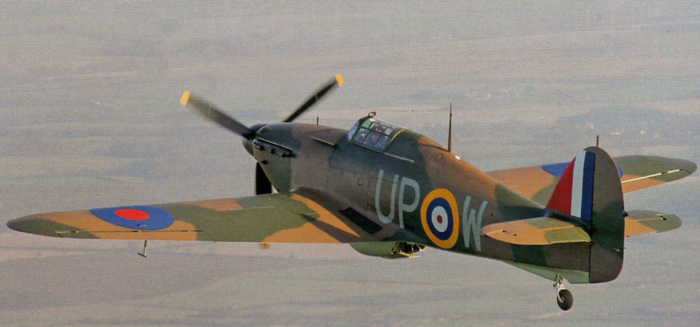 On October 22, 1940, R4118 suffered battle damage on its 49th sortie from Croydon, and went for rebuild.  It returned to Scotland on January 18, 1941, being delivered to 111 Sqn at Dyce, near Aberdeen, from where it was flown on patrols over the North Sea and again saw combat.  Over the following two years it was used primarily for training, and was rebuilt three more times after major accidents.  In December 1943 R4118 was crated at Cardiff docks and despatched to India.
It took six years of negotiations for Peter Vacher to get R4118 out of India, but in June 2001 R4118 safely arrived at Hawker Restorations in Milden, Suffolk.  Run by Tony Ditheridge, the company has now put four Hurricanes back in the air, with more to come.  Tony says of R4118: "This really is the Hurricane, totally unadulterated, not a 'bitza'.  A complete aeroplane, including all the 'trinkets'.  I don't think we will see another like it.  Although it is the first Mk I we have done, the rebuild was fairly straightforward, and took about 28,000hr.  There is no other Hurricane flying that is fitted with its original Browning guns and ammunition boxes.  It also has a working gun camera, complete TR.9 valve radio, electro-mechanical IFF system, original armour plate, the correct Hurricane Mk I gunsight in front of the cockpit, and Rotol spinner.  A lot of the research has been undertaken by Peter Vacher, including the totally authentic paint scheme and accurate stencilling.  The fuselage has been finished in cellulose nitrate dope, so it is already developing a nice patina.  The engine, rebuild by Maurice Hammond in Suffolk, arrived in August 2004 but, owing to hold-ups with the propeller, engine runs didn't commence until October."
The first flight was made on December 23, 2004, with The Fighter Collection (TFC) pil
ot Pete Kynsey at the controls.  Fellow TFC pilot Stuart Goldspink was at the helm for the official launch, on January 13.  The machine will now undergo 5hr of flight testing with four nominated pilots, the other two being Shuttleworth chief pilot Any Sephton and ex-Battle of Britain Memorial Flight (BBMF) pilot Al Pinner.  As befits one of the most historic surviving Second World War fighters, R4118 will be flown under BBMF rules, with no negative-g manoeuvres.
After R4118 taxied in on January 13, a visibly moved Peter Vacher said: "I can't quite believe that, 22 years after discovering her in India, R4118 is 'operational again', and Bob Foster has been sitting in her this morning doing a bit of 'hangar flying'.  It's a bit of a tear-jerker".
Bob Foster himself adds: "When Peter first called me up and said he had discovered one of my old Hurricanes I thought it was a wing-up.  It really is unbelievable that, almost 65 years after the events of 1940, I have had the privilege of sitting in old R4118 again."